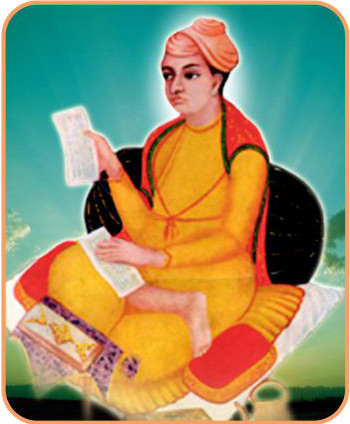 Shri Satguru Garib Dass Ji Maharaj
.India is the land of great Saints, Gurus (spiritual leaders) that showed the way of spiritual trusts to the rest of the world through simple words and vivid stories. One such soul, Great Guru Shri Satguru Garib Dass ji took birth in samvat 1774 (1717AD) in a well known family of Jats, now living in Chhudani Dham, Distt: Jhajjar, which has migrated from Karontha before birth of Baba Garib Das ji Maharaj. A Kashatriya Jat Hardev Singh & his wife Dayali Devi lived in this village named karontha.They had a son Shri Balram Singh. At that time in Chhudani, lived a rich farmer who had a daughter named Rani. He offered the hand of his daughter Rani to Balram Singh. And asked his son-in-law to come and live with him in Chhudani as he has no one to look after his vast property.
Shri Balram Singh & Shri Rani Devi did not have any child for 12 long years. Then one day, a Yogi comes to their village. On the request of Rani's father, Yogi told them that his son-in-law and daughter are not ordinary people. They were great tapasvi's in their last birth because of which a great soul will be born in their house. He shall be the living image of Kabir Sahib.
After ten months, a son was born to Rani Devi. The child was loved by everyone. It is said that, three months before the birth of shri Garib das ji, one day, Rani Devi was going to the well to fetch some water, two saints came near her and touched her feet. When she asked them why they had treated her like that, the saints said that they had paid respect to the great soul who was to be born in their house. At a very young age, when other kids of his age are busy playing. He used to sit on a raised platform and delivers preaching's like "Do not Steel"," Do not abuse", Respect your parents" etc .He was very fond of religious songs of Kabir sahib, Guru Nanak & Dadu and sung them in a very melodious strain. Acharya Garib Dass felt, from his childhood, a passionate yearning for the vision of God. In various ways he tasted the bliss of communion with God, sometimes merging himself totally with creator.
Garibdas Ji met God Kabir Ji at age of 10 years in a field named Nalaa in 1727 A.D. Satguru Kabir Ji also met Garibdas Ji in an embodied Jinda(real) form. Garibdas Ji along with his other fellow milkmen was tending his grazing cattle in his Nalaa field which is sticking to the boundary of Village Kablana. The milkmen requested Kabir sahib who had appeared in the form of a Mahatma that if you are not going to have food, then have milk because God had said that I have come after having food from my Satlok village. At that moment, God Kabir Ji said that I drink milk of an unmarried cow. Garibdas Ji brought an unmarried cow to Parmeshwar Kabir Ji and said that Babaji, how can this unmarried cow give milk? Then Kabir Sahibji patted on the back of that unmarried calf, automatically milk started flowing from the udders of the unmarried calf and stopped when the pot became full. Satguru Kabir Ji drank that milk and made his child Garibdas Ji drink some as prasaad (blessed drink), and showed him Satlok.
Gribdas ji had great influence of Kabir's thought; he adopted him as his Guru. Gribdas ji says." There are innumerable gems & precious stones but kabir is the most precious amongst them all."
Acharya Garib Dass Ji had extra ordinary vision right from the birth and people could feel that this boy will lead the world from utter darkness to spiritual enlightenment. He was a deeply religious person concerned about the welfare of ignorant people. He preached that God has many names. So has he numerous qualities and attributes. He did not give up the rich heritage of Indian Philosophy. He gave a fine and hog order Gurbani which consists of some 7000 verses of the celebrated Kabir, followed by 17000 of his own which laid stress on rightful living, compiled as Guru Granth which has become a beacon of light for the direction less society today. This baani is written by Saint Gopal Das ji form Rajasthan after getting permission from Baba Garib Das ji.
Shri Garib Das ji was a true saint. He never tried to won the favor of any king or ruler of that time. He faced a lot of up and downs but we have never heard of a single event where he had to seek the pat range of any court.
Acharya Shri Garib Das ji had unbelievable faith in the Baani of Kabir Sahib. He identifies Kabir as God. Both the saints Kabir sahib and Baba Gribdas ji fought for the social and religious show off's like carrying a rosary etc.They both wore ordinary dress and never opted any religious symbols. They both had supreme belief in that almighty god and preached the same to their followers.Kabir Says:
माला फेरया कुछ नहीं ,गाँठ हृदय की खोय |
हरि चरणां चित रखिए,तो अमरापुर होय ||
Baba Garib das was deeply attached to the Kabir's Baani. He mentions Kabir as his Satguru (Real Teacher).In his wordings he refers kabir as:
गरीब ऐसा सतगुरु हम मिल्या ,सुरति सिन्द्दु के तीर |
सब संतन सिरताज है ,सतगुरु अदल कबीर ||
Acharya shri Garib Das ji was married to Mohini daughter of Chaudhary Nayader Singh of Barona and gave birth to four sons and two daughters. The names of their sons were Shri Jait Ram, Shri Turti Ram, Shri Angad Rai and Shri Asa Ram. And daughters name were Dil Kaur and Gyan Kaur & all were very religious. His devotion and bhakti continued to be sustained ever after his responsibilities as householder. Like Kabir Sahib, Baba Garib das made sakhis which reveals his thoughts
ऐसा अविगत राम है , अगम अगोचर नूर|
सुन्न सनेही आदि है ,सकल लोक भरपूर ||
Acharya Shri Garib Das ji composed Aarti in the praise of infinite God. Garib das ji had following Aartis in his Baani:
शिव की आरती ,अन्न देव की आरती , आदि माया की आरती , संध्या आरती.
Sandhia Aarti is being sung at the time of evening prayers by Garib dassi sampraday in Haryana, Punjab, Himachal Pradesh, UP, Gujrat, & Rajasthan.
नूर की आरती नूर कै छाजै ,नूर के ताल पखावज बाजै |
नूरके गायन नूर कूं गावै ,नूर सुनैं ते बहुर न आवै ||
नूर की बानी बोले नूर ,झिलमिलनूर रहा भरपूर |
नूर कबीरा नूर ही भावै, नूर के कहै परमपद पावै ||
There is no doubt the Garibdass ji's poetry has outstanding contribution in the religious literature. We can never describe his contribution in the welfare of humanity. He thinks of mankind not as Hindu or Muslim but as a one loving soul of that almighty God. He preached unity and cultured understanding between the Hindis and Islamism, between the rich and the poor. Poetry of Garib Das had helped in the development of Kabir Panth. He is considered seriously as the national poet of Haryana. Baba Garib das ji go to his Satlok Dham in samvat 1835 (1778 AD), and over his remains a Samadhi was erected.
To read more visit our Blog : http://blog.satsahib.org